For various reasons, last weeks diary didn't happen, so this is a bumper issue...
Friday, 10th July
According to just about every media outlet, Delph is off to Man City. I can understand it on paper, but not six months after:
It's really disappointing, but the fact is, in 112 PL games, he scored 3 and created 5. Those figures are disgusting; he's a loss, but irreplaceable he ain't.
In what probably isn't a coincidence, we announce the signing of Gueye. From descriptions I've read, he's very similar to Delph, so at least he may well turn out to be an ideal replacement.
The U21's beat Boldmere 3-1 in a friendly. Callum O'Hare, Jerrell Sellars and Henry Cowans grabbed the goals.
Saturday, 11th July
DELPH STAYS! He releases a short statement on the official site. This is great (and very surprising) news, but those stats still need improving on. However, this is great - it's Gueye AND Delph, not Gueye INSTEAD of Delph!
We lose 3-1 in a friendly against Fulham. Carles Gil was the best player in the first half, Joe Cole in the second. It was also nice to see Libor Kozak not only playing but grabbing a goal. Overall we were the better team and the result really doesn't matter at this stage, but the defending for all 3 goals was absolutely disgraceful. Things had better buck up, and quick.
Sunday, 12th July
After a bit of a break, the women return with a 2-1 win against Millwall. Katie Wilkinson and Beth Merrick grabbed the goals.
Monday, 13th July
It appears that, contrary to reports, Brad Guzan will actually be first choice goalkeeper next season.
Tuesday, 14th July
Tim gives an interview and explains that takeover talks have broken down. That's the end of that chapter, then.
Wednesday, 15th July
It seems that Manchester United may pip Liverpool to the signing of Benteke.
Hendrik Almstadt is appointed as sporting director. He arrives from Arsenal, and with a pretty impressive CV. He could be a very good addition to the club.
Thursday, 16th July
Seems that Benteke to Liverpool is now the story. It makes you wonder if we planted the Man Utd rumour to get them to get a move on...
Olivia Fergusson represents us at a photo-shoot at Wembley for the FAWSL. Hot on the heels of being at the official kit launch, she's doing well for herself!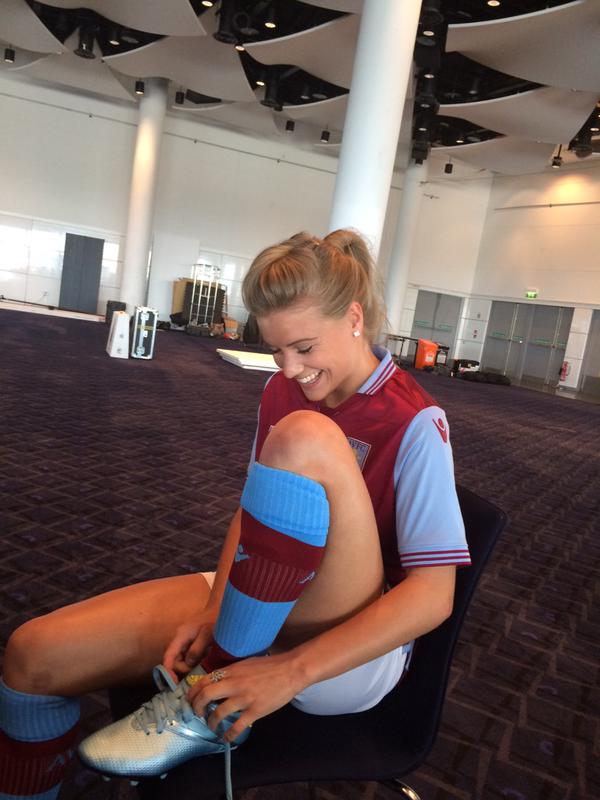 Friday, 17th July
Sky Bet announce in the morning that the Delph to Man City bet is re-opened. It's widely met with mocking but it becomes apparent during the day that it's for real, then it became confirmed. Unbelievable. It was bad enough 6 months after the spiel; 6 DAYS later is as despicable an act as I have ever seen in football.
In other news, we have a very dull 0-0 draw with Sporting Braga.
Saturday, 18th July
Jordan Amavi signs. People who know of him are very excited and/or shocked that we signed him.
We're heavily linked to Charlie Austin and Emmanuel Adebayor. They seem like obvious links but I wouldn't be surprised if one of them arrive at the club.
Sunday, 19th July
Benteke is widely believed to be having a medical with Liverpool. I guess the end game is upon us here.
The ladies lose 2-1 to Millwall. Emily Owen scored for us.
Monday, 20th July
There's not much news today that doesn't involve Christian Benteke joining Liverpool. Brendan Rogers rather embarrassingly denies knowing anything about it in an interview. It's quite cringe worthy.
Tuesday, 21st July
We beat Swindon 2-0, with goals from Scott Sinclair and Jerrell Sellars. Both goals come from their mistakes but it'll do. We actually look better with a load of youngsters on the pitch...!
The ladies lose 4-0 to Bristol in the Continental Cup.
Wednesday, 22nd July
Benteke officially joins Liverpool. Disappointed that he didn't move to a Champions League team. Still, I wish him no harm, and with the way all the Liverpool fans are slagging him off, I want him to prove them wrong. He's too difficult to replace like for like so we'll have to rebuild in other ways.
The U21 side (well sort of) beat Forest Green 3-0. Tonev (yes Tonev!) scored the opener and Sellars got the other two.
Thursday, 23rd July
We're linked with a whole host of players. Yannick Bolasie, Charlie Austin, Ashley Young, to name just three. With the Benteke money, this won't ease up. We do need new players though, and ASAP!

kimbo







Posts

: 2204


Reputation

: 734


Join date

: 2014-04-13


Age

: 38



---
Permissions in this forum:
You
cannot
reply to topics in this forum