Once again, there are daily Benteke-to-Liverpool stories, so, whatever.
Friday, 22nd May
Sherwood says that he expects Vlaar to stay.
Saturday, 23rd May
He now says he's confident of Benteke saying.
Elsewhere, we're linked with Micah Richards. I believe he is a Villa fan, is he not?
Sunday, 24th May
Ugh. We play Burnley at home in the last game of the season, we're rubbish, Sherwood picks a bizarre/disturbing team, and the league season ends on an awful note. We finish an absolutely disgusting 17th (largely down to Lambert of course) and the farces that were the last two games cost us money with that league position.
However, I have already forgiven these last two performances on the basis that we have a cup final to look forward to, and I expect a much better performance, as I'm sure we all do. Well, most of us. I know some of you are expecting us to get smashed... I suppose if you have no expectations you can't be disappointed?
Elsewhere, the ladies won. Good! Katie Wilkinson and Olivia Fergusson scored the goals in a 2-1 win over London Bees.
Monday, 25th May
CUP FINAL WEEEEEEEEEK!
But first, we make an apparent £3.5m bid for Swindon duo Massimo Luongo and Ben Gladwin.
Shay Given may be injured for the cup final; Jed Steer is cup-tied, so if Given can't play, Brad Guzan will be in goal. 
Tuesday, 26th May
Randy Lerner says that if he can't find a buyer this summer, he will step down as chairman. Here is a summary: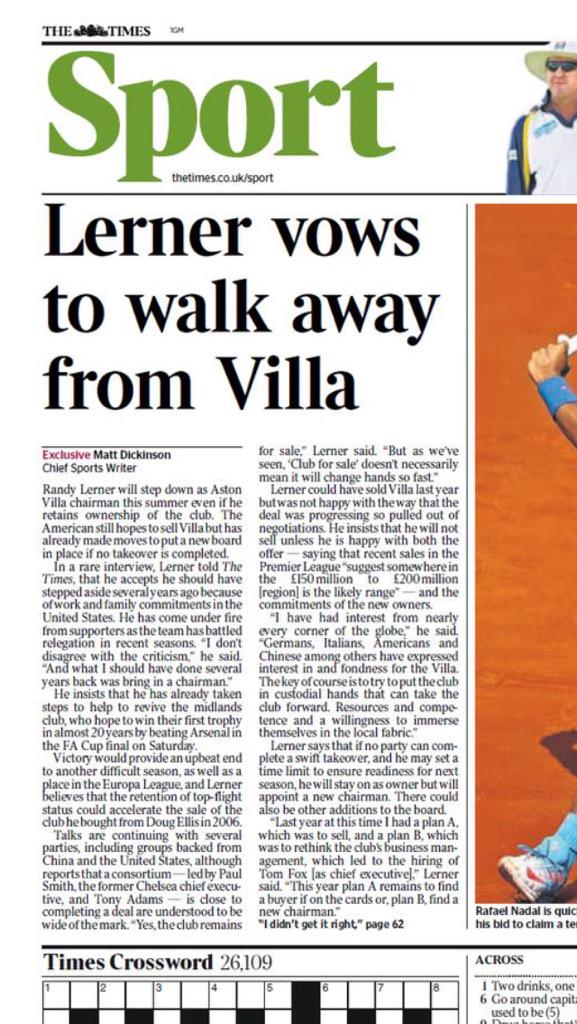 Sherwood predicts Tom Cleverley will hit double figures for goals next season. If he's playing for us, that would be wonderful!
So a load of Villa fans recently clubbed together to buy a massive flag with this slogan: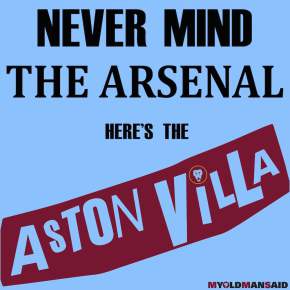 It cost around £3000 I believe. But it won't be allowed into Wembley, because it includes the word 'Arsenal'.
To give you an idea of how offended the Arsenal fans are, there is an
on-line petition
 to get it allowed in, and several of their fans have signed it.
Oh, the FA, Wembley. You really are a bunch of cretinous morons.
Wednesday, 27th May
Leandro Bacuna says that Benteke is a 'big cutie'. N'aww.
Thursday, 28th May
Those Swindon lads have gone to QPR. I don't have much an opinion either way to be honest!
Tim Sherwood reveals that Benteke has a release clause. I'm slightly baffled at the timing, but, no point in worrying about it now.
Right then. Given, Okore and Richardson will all hopefully be fit for Saturday. The fact that I'm pleased that Richardson might be fit is... startling. But alas, here we are. If he plays, I hope he has a blinder!
So then. It's upon us. I know some of our fans didn't care - quite a lot of you - what happened as long as we stayed up. But me... that's not me. I wanted to win this competition; I remember the FA Cup being massive when I was little. I remember winning the League Cup in '94 and '96, I remember how devastated I was losing the FA Cup final in 2000, and the League Cup final in 2010. I remember the heartache of losing in semi-finals, to Liverpool in the FA Cup, to Bolton and Bradford (BRADFORD!) in the League Cup, even losing to Middlesborough in the Zenith Data Systems Trophy!
I hate how football has become about finishing 4th in the league as the ultimate dream for many teams, and how money is so important that many teams now go out to not lose more than they go out to win. I have great memories of Villa teams that won cups or nearly won the league. I have great memories of cup finals as a kid, watching the cup final and dreaming of Villa being there; when we did we were devastatingly disappointing.
When I look back at seasons of football, they've all started to bleed into one another. The memories of Villa that stand out are the ones where we've had or been close to glory. The memories of cup finals come from before football became the nonsensical status quo that it has become in recent years. So for us to do something that stands out, it's got to be big. We have this on Saturday; but we had it in 2000, and we didn't go for it.
Please don't let that happen again Villa. Whatever happens - just don't leave yourselves with any regrets.
Let's do this thing... COME ON YOU VILLA BOYS!

kimbo







Posts

: 2204


Reputation

: 734


Join date

: 2014-04-13


Age

: 37



Some horrible typos in that last entry, I was so tired when I did it! Hopefully all fixed now 


---
Permissions in this forum:
You
cannot
reply to topics in this forum